Blog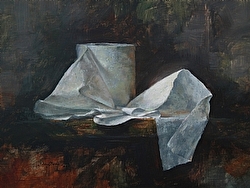 "T. P.", What could be more ordinary?
Back in may I talked about looking for the beauty in people. As I thought about it, it occured to me that we are surrounded with all kinds of
lovely things that are so ordinary we may overlook them. How the light comes through the leaves, car keys on the table, soap bubbles on the sink, may be an irritant when we must rake, straighten up or wipe down. But they also may be wonderful subjects for a painting. Many things we see or use everyday may have a unique beauty. We just need to look for that special quality and enjoy the moment. What is more ordinary than a roll of toilet paper? With interesting shadows and the folds catching the light just right tp can even be lovely.
November 3-5, 2011 I will be teaching the workshop "Finding the Beauty in Ordinary Things" at the Emerald Art Center in Springfield, OR.
Hope you can make it.
---
---
---
---
---
---
---
---
---
---